Fantasy. History. Mystery. Monsters.
Welcome to my website! I'm glad you're here.
Please check out *About Me*  *Anthologies*  *Books* *Scripts* and FREE *Stories* to find out more about me and my work. Please *Contact* me if you want to ask a question or say "hello."
Happy holidays! Are you looking for horror and fantasy books to give as gifts?
Here are some awesome choices:
 "Haunted Nights," is a speculative fiction collection from the dynamic editing duo of Ellen Datlow and Lisa Morton.  The volume features sixteen never-before-published tales about our darkest holiday, Halloween. It includes works by Seanan Maguire, Stephen Graham Jones, Jonathan Maberry … and me.
Reviews for "Haunted Nights"  have been very good:
"Halloween brings out the best in horror writers, as this fright-packed anthology demonstrates."  Publishers Weekly
"Blumhouse and Anchor have aligned a magnificent assortment of talent to creep us out … Make no mistake: Haunted Nights is a must-read!" Horror Novel Reviews
"These stories chill and might even make you a bit ill.  This is the dark side of horror." The Book Faerie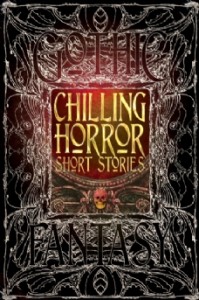 "Chilling Horror Short Stories" is a beautiful volume from Flame Tree Publishing. Part of a series of gothic tales (other volumes focus on fantasy, ghosts, and pirates!) it combines new and classic horror stories.  Poe, Lovecraft, and Shelley are cozied up with modern writers. My story "Leonora,"  about a gypsy girl and a demon, is right next to "The Leather Funnel," by Sir Arthur Conan Doyle! Check out this volume and the others in the series for a classy, creepy gift.
"Packed with monsters, vampires, and a host of weird creatures … tales of shadows and voices in the dark…" Publisher's Website.