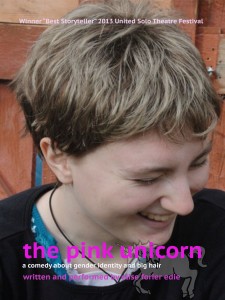 The Pink Unicorn is an award-winning solo theatre piece, which tells the story of a Christian widow, living in a conservative Texas town, whose life is thrown into turmoil when her teenaged daughter announces she is "gender queer" and starting a chapter of the Gay and Straight Alliance at the local high school. Produced originally in Washington by DogTown Theatre, the play was invited to perform at the United Solo Theatre Festival in New York City, where Elise won the Best Storyteller award. It has since performed elsewhere in the US and Canada.
"Extraordinary...The Pink Unicorn need(s) to be on Broadway, in the West End, touring the world with the powerful message of this brilliantly wise and inspiring work"
(NY Theater Now)
"…any outline of the story in a short review can't possibly give you the richness and depth of Edie's play…5 stars." (The Edmonton Sun)
"…very funny…sharp and poetic. Edie's knack for vivid description creates a fully realized world…" (Saskatoon Star Phoenix)
"This is one of those shows you wish everyone could see…(it) delivers laughter, tears and everything in between to depict not only the depth of a mother's love, but the struggle many Christians face when what their church tells them conflicts with what their heart does." (On Stage Colorado)
"…a wonderfully real, fleshed out story of mother's journey from horror to bewilderment to empowerment…(a) smart and beautifully realized play." (Talkin' Broadway Regional Reviews/Minneapolis-St Paul)
If you would like to produce THE PINK UNICORN, please CONTACT ME about acquiring rights.
For more info and to order your copy, click HERE
LA LLORONA AND OTHER TALES OF THE AMERICAN SOUTHWEST
**Winner of the Best Stage Play Award from the 2003 Moondance International Film Festival**
**Developed at the National Playwrights Conference at the Eugene O'Neill Theater Center**
This lyrical, evocative award-winning stage play tells the story of three young women at the turn of the millennium, all of them haunted by La Llorona, "The Weeping Woman." Esme dreams of becoming a doctor, Monica searches for love among a string of feckless men and Andrea, poet and dreamer, makes a fateful choice with dire consequences.
Roles for 6 women and 4-5 men
Unit set
**Winner of the Waldo M and Grace C Bondsman IRT/IUPUI Symposium for children's playwriting**
**Developed at Whidbey Island Center for the Arts**
Iowa farm girl Cathy Scruggs gets an assignment from her teacher to write a term project about Jeanne d'Arc. While working on her paper, the lonely, awkward teen suddenly finds the French farm maid has come to life and can speak to her. The two become fast friends and Jeanne introduces Cathy to a world of incredible courage and daring, as Jeanne sets about conquering marauding English invaders and crowning Prince Charles VII the king of France. But suddenly Cathy is called upon to do something heroic in her own time, as she discovers a nearby factory farm—her community's sole economic anchor for the past two decades—may be poisoning the water supply. As Jeanne's brave quest begins to crumble into tragedy, it becomes increasingly clear that Cathy must take a stand or turn her back on what she knows is right. Can a lone teenager face down a powerful corporation? Firsthand, Cathy learns about the nature of courage and what it really takes for one girl to change the world. Songs by Tina Lear.
Roles for 5 women and 4-5 men
Unit set